The revival of women's activism
The revival of women's activism, the beginning, and its challenges.
SevimArbana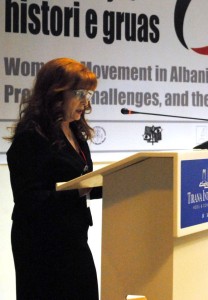 Dear ladies, colleagues, friends, and sympathizers of the Albanian women's movement, and honorable representatives of the government and International institutions!I feel privileged and honored to speak today in front of this audience of friends and colleagues with whom I have shared my concerns, challenges, and victories about the origins and evolvement of Albanian women's activism.
When I began to dream of being part of the initial women's movement in Albania I never thought that after so many years and efforts we would be looking at such a long and rewarding list of achievements. But let us go back for a moment to the beautiful days of our national movement for freedom and democracy, where unlike the document that was signed entirely by men over a century ago to mark this nation's independence, the number of women who signed to democratize this country was 62 out of a total of 300 representatives.
There were those women who decided that it would be them who would transform their own lives, as well as the lives of their children, their quality of life, and the very future of their country. They fought and strived to become masters of their own destiny.
This marked the beginning of our women's movement.
But how was this movement born?
During the early '90s we all fought and dreamt big.
All of us in our own way began to fulfill our dreams and future based on democratic values that we had previously only heard about.
To us that represented endless possibilities, a dream, the present and the future, for ourselves and our children.
We met those ideals and new perspectives as women should in a country like Albania, where these fragile and resilient human beings had never gained anything, but only invested so much of themselves.
In the stormy days of summer 1991 a group of women inspired by the new democratic ideals decided to take their first steps. They regrouped into a formation that they themselves weren't sure what to call, despite the fact that they were certain of their aspirations.
What those women wanted was perhaps considered too advanced at the time, therefore a few more months were needed for us to discuss, connect, and decide with a single voice that our biggest challenge was to stay apolitical.
Our knowledge was limited and there was neither literature, nor previous examples for us to sift through.
We didn't have the long experience and tradition of our sisters in Western Europe, or across the Atlantic.
Our institutions were practically non-existent, and there were no programs to aid us.
But our greatest advantage by far was the fact that we were the first to head down this path. Our nation was stating over new, and many other countries wanted to see us succeed.This marked our silent arrival, filled with devotion and the ability to pour whatever little we had, or rather whatever was left from the poor and restricted lives of our childhood, but mainly the desire to fight, evolve, and contribute like never before.
We were indeed confused at times, and perhaps even fanatical, and extremist to some degree, but at the same time adamant on change.
During the early years of democracy, the founding members of women's movement in Albania showed little sign of cooperation, despite the fact that their concerns were articulated almost identically, and their approach was devoted and complete.
Today we can finally dare to look back at the road we have so far travelled.
We can't help feeling proud to have been protagonists during those moments of great historical significance. We together managed to write a notable chapter in or nation's history; the story of women's movement, female activism, and the struggle towards a society that's open and fair.
Not having much expertise in this field, but tremendous will for change and a desire to mold the "ideals of December" into an attainable reality, the women's movement became more active and vocal over the first few years, thus enabling many institutions, other women, and people in general to pay attention and respond to their aspirations. We were often discouraged, and just as often felt used, but as women and mothers with a firm grasp on reality, we were capable of overcoming such obstacles in the history of our movement.
Despite the fact that the origins of this movement were both advanced, idealistic, and fuelled by hopes and visions for change, they were also subject to the anarchy that characterized an era of "limitless" freedoms, which during that time were in danger of being eradicated and misused in the same fashion that many of the fine ideals of December '90 were crushed.
But one thing was certain; an environment where women could finally fend for their own rights was established.
Over the following years, this movement was confronted with the tragic events of 1997, events from which our women came out as true survivors, encountering them with strength and resilience.Women showed how strongly they believed in the very rights they fought so hard to protect. Educated and evolved, very often through a process of "learning by doing", we not only managed to affirm personalities in our own right, but also gradually extended our influence via networking at home and abroad. We hoped that our path would take a natural turn where we were embraced not only by women, but the male part of the population as well, because we were all in this together.
And although it would be an over-statement to call the state at the time our ally, we succeeded in speaking the right language, which as time later showed resulted in a general acceptance of our efforts and the progressive nature of our ideas.
…We therefore won.
In hindsight I would like to reflect on the importance of these events as the first of such nature, and the fact that we were the first NGO heading down this path.
Such were the origins of our noble and irreversible mission, and our attempts to tackle anything that we considered a step towards improvement.
We made it our goal to acquaint ourselves with the horrific realities that our women were facing.
We taught the government and various institutions to work for us women, for the people of this nation, and the future of our children.
We were the ones to initiate a new struggle with slogans such as: "Don't stay silent!".
We proclaimed war against women trafficking.
We worked under the banner; "Women, a bridge towards peace and understanding!".
We aspired and firmly believed that; "Another Balkans is possible!".
We envisaged an environment where people would say: "Empower yourself through work!".
We aided women of all creeds by making them realize that "Women make history each day!".
We opened shelters, drafted laws, lobbied, and put firm pressure towards governmental institutions or otherwise, in order to protect women, their status in the society, and help elevate their quality of life.
We gained the sympathy of many men along our path, many of whom became and still remain among our staunchest supporters.
We made it clear that the fact that ours was called a feminist movement didn't equate to antagonism towards men, but rather a call for support by anyone who dreamt of a better future for Albania, and our motto was the reason why so many of the opposite gender frequented our premises, and gave us unequivocal and constant support.
During our long and noble path we "grew" by standing tall, and learned by doing.
When I look back at the last 20 years I fondly recall that during our most cherished and our toughest moments we were true to ourselves, and always strived and fought with a great deal of idealism for a future filled with progress and prosperity for all Albanians regardless of gender or status, but we also made it very clear all along that we were there to help the helpless ones.
In that respect I'm confident we have succeeded.
I hope this does not come across as lack of modesty, but rather as a healthy dose of sincerity for the simple fact that since the beginning we invested ourselves sincerely and emotionally to the point that quite often we were oblivious to the long hours, difficulties ahead, and the fact that we had our own families to tend to, all this because the dedication to our beautiful mission.
Today, 20 years down the road, I somehow believe that the path to success might be harder because that always entails staying "true to oneself", and achieving what many would consider unattainable, or even a surreal.
I am one of those who always believed in dreams as a way to grasp the future.
After all these years when we still come together to outline programs and build strategies on how to move forward and reflect on the past, I hope we can still dream where the following years might take us, and what our goals might be in order for them to hold future relevance.
The women's movement in Albania, which was born out of aspirations towards a repositioning of all women, and empowering their social status, is today a movement to be reckoned with, and fiercely capable of planning and setting goals.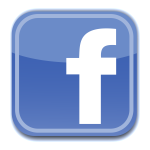 Contact Us
Address: Street "Naim Frashëri" No.6, Tiranë
Tel / Fax: ++35542 223001
Tel "Woman": ++35542 237728
Email: uaw@icc-al.org