Women Make History Everyday
WOMEN MAKE HISTORY EVERY DAY

This is the driving motivation of the work in the head office and remains one of the most important programs of UAW.
Why do women make history every day?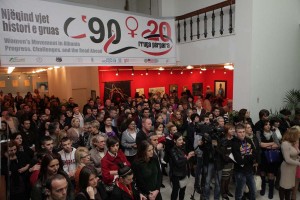 •    This program is focused to women as main target group, as they are not only  the most marginalized society strata affected by phenomena such as poverty, trafficking, domestic violence, but they are a big potential as progressive change agent in the family and society  and in decision making of the society
•    The growing  process of assisting women and the whole families in need in the most remote parts of Albania,  helped the organization itself to focus shifting from keeping alive our idealism we started with, to a whole new, improved strategy of facilitating change with measurable results and achievements.On the other side, addressed by this action, the program exposes also the organization's Managerial and Financial Capacities, which need to adjust and improve based on the new strategy.
The program consists of these main areas: Lobbying, advocating and awareness campaigns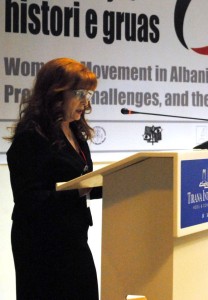 Raise awareness concerning women's rights emphasizing the situation of the domestic violence;
Empower and educate the target group, so they are able to understand, claim and stand up for women's and children's rights;
Strengthening external (regional) and internal (organizational/TOT) capacities;
Influencing and affecting decision making toward Gender Equality.
Who are our program beneficiaries as direct actors and decision-makers in our main pillars?
Vulnerable Women (divorced women, violated women, women in a difficult economic situation, widows and abandoned women, migrated women, jobless women etc., that will increase self confidence and sustainable skills at home and in the labor market)
The staff of UAW main office and its branches through developing the pilot model of self-sustainability and adopting new  management concepts;
8 Albanian NGOs, which are UAW's partners and affiliates;
10 UAW trainers and lecturers prepared to train on the TOT of the program
The civil society community in Albania, of which UAW is an active actor;
The general public, especially women's movement which is interested for professional experts, organization and a vivid civil society
Which are the purposes of the program?
Raise awareness concerning women's rights, emphasizing domestic violence; Institutionalization of the AwarenessCampaigns
Building up capacities and protecting mechanisms necessary to manage successfully the challenges offered by the Albanian society
Empower and educate the target group, so they are able to understand, claim and stand up for women's and children's rights;
Strengthening internal (organizational, managerial and financial) and external (support to other NGOs and to the society) capacity
Where we are ?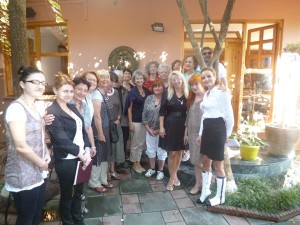 The geographical expansion of the building up women's leadership, through different ways as establishing women's clubs in other Albanian cities reinforcing  women and youth initiatives.
Women'sclub " Teuta e re"  Tirana
Women's club  "Puka women"
Seeds in Durres, Elbasan, Burrel
Employment Agencies Tirana, Elbasan , Durres
New Organizations born "Alunmi, Youth org. etc
Visibility actions
Reaching target groups, communities, stakeholders, state and public institutions, central and local government through: monthly organization's newspaper "Diella", the organization's website, articles in other local and national newspapers, local and national TVs, brochures, leaflets.
Collaboration types of UAW
Collaboration with the small partner NGOs; learning and knowledge sharing, positive and concrete experience is done in collaboration with small partner NGOs, through meetings, exchange of experiences, round tables, discussions, ToT training sessions and workshops.
Raising small NGOs capacities to manage and/or develop their own projects. A good example is the collaboration with small partner youth organizations in Durres which implement sociocultural projects for youth and children, mainly in Durres and its rural areas. Same support is given to women's club of Puka, which is independently planning, preparing and implementing small  incentive activities for women, according to Puka context profile and needs.
Synergies and networking with external partners, State institutions, local government, networks. Cooperation with local authorities has been a crucial and important focus, related as well with the elections process such as mediation in voting process and awareness regarding the right of vote (case of community centre of Durres). Public and state institutions and local authorities of health, education and legal systems are involved in close cooperation in the implementation of all programs of UAW depending on their profiles and in the implementation of complementary projects.
Continuous networking and lobbying activities are developed with NGOs of the same or similar profiles with state and public institutions such as state police, municipality of Tirana, Regional education directorate of Tirana, Municipality of Durres, State social service etc; with donors
A courageous enterprising was developed among women organizations. Women organizations and other organizations have established a network with the focus on work against domestic and gender-based violence and pressure coalition toward central and local governments. In addition, there is under evaluation the establishment of national hotline service for gender-based and domestic violence.
Participating in debating processes with actors on legal frameworks such with think-tank organizations, international organizations and donors (CSOs, EU, UNDP), being active part of regional networks such as ARIADNE and financially supported by other donors such as Soros, UNICEF, have positively consolidated UAW's profile.
Contact Us
Address: Street "Naim Frashëri" No.6, Tiranë
Tel / Fax: ++35542 223001
Tel "Woman": ++35542 237728
Email: uaw@icc-al.org