Community Centers
Community Centers in Durres, Elbasan and Burrel
Former aid centers, who had provided health and nutrition for the most vulnerable groups, slowly slowly, became a multidisciplinary center.
Durres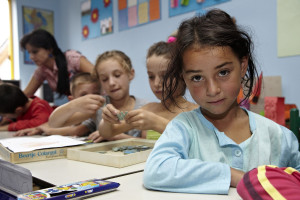 The Community Center "Today for the Future" is located in the ex-swamp area of Durres, populated by migrants from highlands of Albania. The program is created based on the community needs and has started as a Daily Center for Minor Children financed by Deutsche Welthungerhilfe. It was an open center for the children in difficulties and with social and economic problems. In 2004, the Program developed its activities with the focus not only in children needs, but also in women, youngsters and the whole community, therefore becoming Community Center.
The aim was not only to integrate the community in the social-economic and cultural life of Durres, but to be the voice and to intermediate with local institutions & Government for the community rights and to sensitize the community about the rights and obligations.
From 2005 and on the Community Center "Today for the future" is financially supported by EED- Germany.
Community Center (CC) Durres "Today for the Future" is well-known through the years for:
Collaboration with public institutions at a local level consists in the exchange of information through participation in public activities of CC Durres and vice versa, also in joint lobbying on issues affecting the community such as the issue of legalization of property, access in infrastructure, environmental protection, etc. However, in terms of empowerment, it is required strengthening of relations of cooperation with public and non-public institutions aiming the institutionalization of these relations and the involvement in decision-making processes and also in the drafting processes of public programs to raise awareness of community needs.
CC Durres collaboration with public institutions for hiring young people and especially women has proven successful for the integration of a part of community in need to participate in the labor market. Coordination and support from local government is required as many funds in the context of decentralization of social services are managed by this authority, so for the realization of employment mediation is necessary to establish institutional constant relations with : a) Regional Employment Office by becoming part of the employment promotion programs, communication with business, recognition of the latest laws and regulations regarding employment, studies conducted regarding the labor force and labor market trends, and work fairs organized annually by the institution, b) Chamber of Commerce to establish regular contacts with representatives of business and to be part of projects organized by this institution or from its partners nationally and internationally.
CC Durres sustainability of activities lies in the involvement in the program of vulnerable persons and for this it has acquired the good reputation in the community.
Elbasan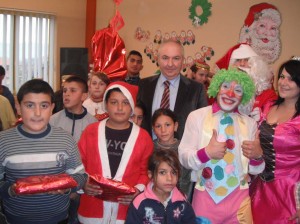 Community Center in Elbasan
Is UAW center , which functioned since 1994 in the city of Elbasan.
First startes as humanitaria aid, thorugh a hot meal for the most poor children of the city
After 1997, the center, became a multifunctional center, with different acitivities in term of ;women, children, youth, elderly people.
In 2005, in additional of all activities and intervention programs, the center provided VET activities for sreet working children and youth in difficulties.
Today Elbasan's Community Center, is wellknown for different activities for many target groups and provide:
Vocational courses-
Strengthening the collaboration with the local government and networking:
Awareness and capacity building activities
Training with community mediators
Voice of Roma women association-
Peer educator group
Promoting Roma culture and tradition
Burrel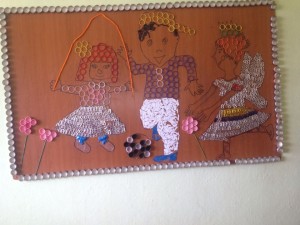 Daily center "Apple flowers" and Community Center, Burrel
"Lulet e Mollës" community centre is a branch of UAW. It has been operational in Burrel since 1995 mainly with funds from our strategic Swiss partner SGF. Even though we have had several projects being implemented in the centre (especially at the Professional alternative division) we have relied to our mother organisation for the overall management and control.
The daily center "Lulet e molles' is very well known in Burrel for opportunities and entertainment activities had developed for both children and young people.
Premises are offered by the Municipality for a long term period.
The Professional Alternative Nr. 3 Center was established in December 2008 as a project of "Useful to Albanian Women" (UAW) association, as a professional trade, social and educative program for marginalized youth in the town of Burrel, (Mati district in northeast Albania with ca 43.600 inhabitants). Two professional courses (Cooking & Sewing) are currently running, financed by a Swiss NGO. The program shall be consolidated and extended. It shall address the economic, social, educative and cultural problems of youth aged 15-21 years old.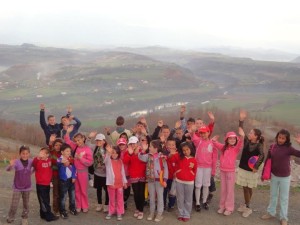 The program has two main activities: professional training and psycho-social integration for the youth aged 15-21 years old.The trade courses provided give pupils the opportunity to learn a profession with view to the market needs of Burrel area and is contingent with the state strategy for youth employment. The psycho-social integration of our pupils is established through social intervention in areas of culture, self confidence, conservatively restricted mentality, civic and social issues and healthy life style living. By fostering the professional capacity and the personal growth of our pupils we are influencing living standards and creating economic and social opportunities for the pupils and their families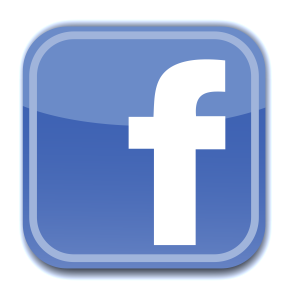 Contact Us
Address: Street "Naim Frashëri" No.6, Tiranë
Tel / Fax: ++35542 223001
Tel "Woman": ++35542 237728
Email: uaw@icc-al.org