Mission and Vision
We are ….

We are women
Bleeding, but proud
Tearful and happy
Loving and inquisitive
Mistaken and resilient

We want …

We want a world
With non-violent relationships
Among women, men and children
Between human beings and the whole world
The Association "Useful to Albanian Women" aims to exert a prominent role in protecting the human rights and equal opportunities through offering services for women, youth, children and the communities in need, as well as improving the social economic policies. UAW aspires and advocates for policies of equalities and social progress.
Vision Statement:        Useful for a better developed society
UAW Believes in:
   Values of diversity, equal rights and non-discrimination;
   Respect and support to women, children, youth, minorities and underdeveloped communities, values, cultures and religious;
   Values of voluntarism;
   Transparency, accuracy and accountability throughout the work it does in fulfilling its mission;
   Fostering the partnership and networking approaches to create a broader and better perspective for its beneficiaries and for the organization itself.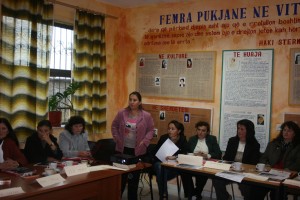 UAW Assumes:
It can make a difference in encouraging, promoting and empowerment of women in leadership actions.
It will remain committed to delivering higher, broader, and more qualitative levels of services for marginalized target groups;
The efforts and commitment for ongoing advocacy and lobbying for policies of equality and social progress will intensify in the future.
Contact Us
Address: Street "Naim Frashëri" No.6, Tiranë
Tel / Fax: ++35542 223001
Tel "Woman": ++35542 237728
Email: uaw@icc-al.org