Awareness Campaigns
UAW, since the beginni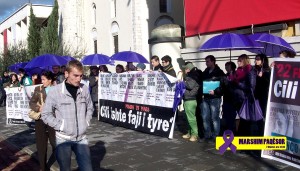 ng, has played an important role and given specific attention to the raising of the public awareness on different topics of the women's all round well being.  The activities have been organized and shared with different  target groups reaching all the stakeholders that have a say for the women's issues.
Well remembered and with a distinct impact have been the awareness campaigns led and initiated by  UAW regarding women human rights, youth rights, children rights and  public policy.
Especially for 8 of March and 16 Days Against Violence Against Women, UAW, in a wide network with the other NGOs, state representatives, have organized protests, public manifestations and other activities to achieve its goals for  improving the life of the most marginalized groups of different strata in Albania.
The annual campaign on International Women's Day has 11 years that is conceived as a traditional campaign of UAW titled "Women make history every day!" approached in manifesting through awareness massive activities in all cities where UAW operates.
    The activities have been diverse in years:
    Massive peaceful marching,
    Media Documentary "Fest or Manifest?"
    Thematic concerts, shows
    Puzzle with slogans in the centre of cities
    Racing between females and males under the slogan: Gender Equity, Equal Opportunities
    "A coffee for help" – citizens who donated for vulnerable women and while drinking a coffee, were discussing on women's rights
    Helicopter of Ministry of Defence has every year supported the campaign by flying awareness leaflets.
    Meetings in schools, women's centres, organizations, institutions etc.
Wide broadcasting by TV channels and newspapers.The traditional elements of the awareness campaign are:
    Purple ribbons (distributed to people, especially women)
    T-shirts with slogans and especially "Women make history every day!"
    Leaflets
    Hats
    Purple umbrellas
    flying leaflet from the sky by helicopter
    mimosas
Different activities and programs are organized on behalf of 16 International Days Against Violence on Women.
Youth and children, are the most important part of UAW and through the years, UAW have organized activities, public campaigns and culture activities , to gather many young people and to make them aware for their role in participating process of the democracy
Contact Us
Address: Street "Naim Frashëri" No.6, Tiranë
Tel / Fax: ++35542 223001
Tel "Woman": ++35542 237728
Email: uaw@icc-al.org